MAKE MONEY AND MAKE A DIFFERENCE WITH ASTROLOGY
The Premium Content You Need To Harness The Cosmos To Reach Your Goals.
Stars & Strategies is a one-of-a-kind membership that connects you with astrology insight that you can use to unlock the potential of your business.
Get Your Business On The Right Track
With Astrology
The Stars & Strategies membership was created for you -  the busy  entrepreneur  who wants the perfect blend of proven business strategy and astrological insight. I know how hard it is to run a business and do all the things. 
  You want deep insight but in bullet  point format!   I'll help you decide on the best time to launch new offers, how to captivate your ideal clients, and make money using your gifts & talents.
Unlock Your Business Potential With Astrology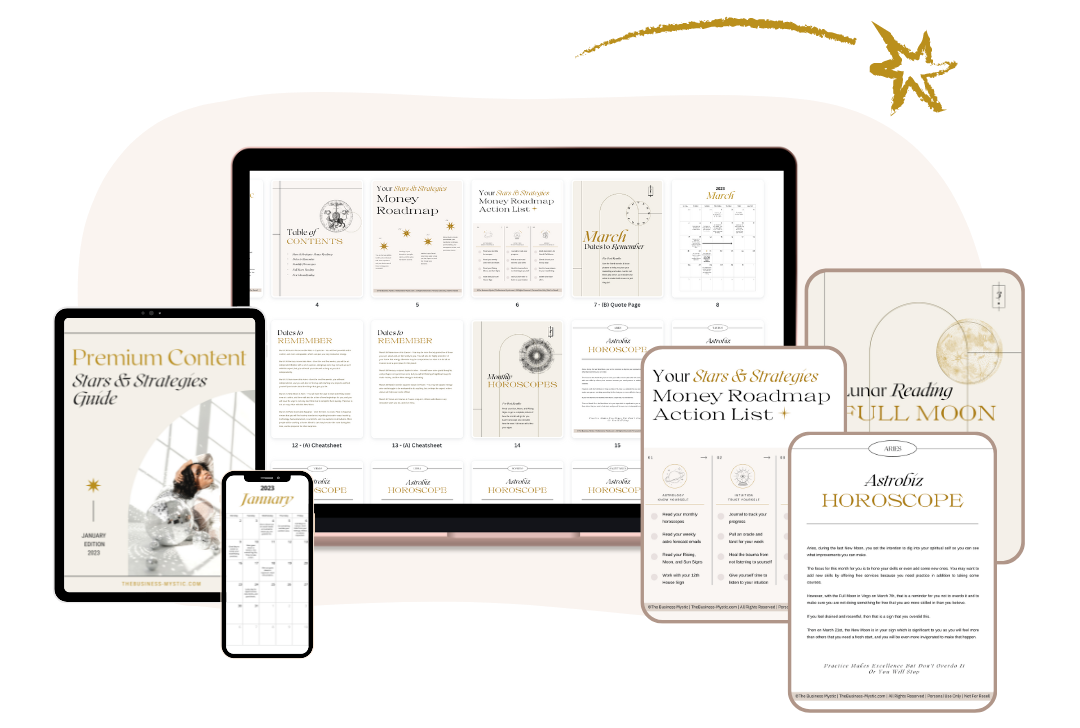 As an astrological guide for entrepreneurs, Stars & Strategies is a game-changer for entrepreneurs who want to use astrology as a tool to become successful.
With Stars & Strategies you can quickly uncover astrology's incredible wisdom to transform the way you work, create sales and profit from your business activities.
→ Use astrology to increase your business income and impact
→ Get premium content including horoscopes, dates to remember, calendar, new moon reading and to-dos list, full moon reading and to-dos list
→ Quickly access information that will help you use astrology in your business
→ Get insight and advice from an expert on how to use astrology in your business
Here's What You Get When You Join
You get access to premium astrology content that helps you make more money and have more impact in your work. It is the perfect opportunity for astrology lovers looking to up their game and capitalize on astrology's potency in their businesses.   Sign up for Stars & Strategies today and start using astrology to create wealth and success in your business endeavors!
Premium Content
Sure, there's more free information online than you could read through in a lifetime. But the problem with 99% of it is that it's just far too generic and has nothing to say when it comes to the complex world of bringing your business to life. And hello? You're busy! That's why I want to save you time and effort by introducing you to exactly what you need with zero fluff. Just imagine what a small investment in yourself will turn into when you can fully invest your time and talent into your business!


Are you ready to reach all the goals you've been aiming for? It's time to get focused and organized, so you can do more with less. Introducing The Stars & Strategies Monthly Guide Bonus! Your secret weapon to improving your business strategy in the next 6 months.
No more guesswork!
Uncover the best opportunities to promote your business and maximize the impact of your campaigns. Plus, with the easy to digest format, scheduling and coordinating is as effortless as pie.
Available for both the Premium & VIP membership levels when you sign up in January 2023.
A $99 VALUE
*All plans automatically renew unless cancelled.*
Upgrade To VIP and Get These Instant Perks

Take your astrology on the go with this exclusive digital calendar. Get all the astrology transits (monthly dates to remember) right on your desktop or smartphone.
Only available at the VIP membership level.
Works with all major calendar services, including: Google, Apple, Office 365, Outlook, Outlook.com and Yahoo.
A $197 VALUE

Truthbomb: Money is energy–which means money has a frequency. But thanks to subconscious fears and limiting beliefs, we're not always on the same frequency as money...and therefore, it's not always showing up in our lives the way we'd like it to.
Use this guide (instant download) that's tuned into the increasing your self-worth, so you hit your net worth income goals!
Only available at the VIP membership level.
A $99 VALUE

The Stars & Strategies Business Organizer isn't about adding more stress or complexity to your workflow - it's about helping you create good habits that will ensure continued growth and long-term success.
Stop wasting time trying to figure out what works — use this organizational tool as a stepping stone toward reaching bigger goals with less hassle!
Only available at the VIP membership level.
A $99 VALUE

Say goodbye to stress and overwhelm when it comes to planning, tracking and scheduling your success.
This planner will help you chart your weekly results, plan quarterly promotions, create weekly schedules, up level your money mindset with wealth affirmations and review offers - all in one convenient package.
Plus, each monthly view also provides astrological insight for an extra edge that money can't buy!
Only available at the VIP membership level.
A $99 VALUE

Gain access to an exclusive library of audio resources that includes wealth building advice, deeper astrological insights for entrepreneurs, and more!
These resources are typically only shared with private clients. The resource library will be added to regularly, so there will always be something new to explore. 
Only available at the VIP membership level.
A $997 VALUE

If you've been looking for the perfect way to take your business to the next level, then Elemental Business Foundations is a great place to start!
With this workbook and training program, you'll not only gain in-depth knowledge of essential elements, but also uncover new creative solutions.
Learn the core aspects of your business model and maximize the flow between the different parts.
Only available at the VIP membership level when you sign up during promo period.
A $149 VALUE
YOU MIGHT BE WONDERING...
Is Stars & Strategies Right For You?
→  You're ready to invest in the BEST astrology content to increase your business income and impact
→   You're TIRED of wasting your time trying to figure out what to do next for your success
→   You want to END perfectionism & procrastination, so you can finally make money in your business
→   You want ONE resource for your astrological, lunar, and business strategies
→   You want EXPERT advice on how to use astrology in your business
STARS & STRATEGIES MEMBERS INCLUDE...
◇ Coaches & Consultants
◇ Service Providers, Creatives & Freelancers
◇ Digital & Physical Product Sellers
◇ Course Creators
◇ Serial Entrepreneurs
◇ 6 & 7 Figure Business Owners
◇ And more...
GET MORE DONE WITH ASTROLOGY
Get Help From An Experienced Astrologer Who Knows How To Make Things Happen.
Feel confident and in control with astrological insight every month.
CREATE A LIFE & BUSINESS YOU LOVE WITH THE HELP OF THE STARS 
If You're An Aries, Leo, or Sagittarius
You'll love how all your premium content is super easy to access and uber convenient for your hustling lifestyle.
If You're A Taurus, Virgo, or Capricorn
You'll find it refreshing how all the information is methodically organized and gives you clear direction on how to implement.
If You're A Gemini, Libra, or Aquarius
You'll enjoy getting new, exciting content every month that gives you an edge in your business or a head start on your plans.
If You're A Cancer, Scorpio, or Pisces
You'll appreciate how the insight validates your perceptive intuition and acknowledges your ambitious drive to succeed.
*All plans automatically renew unless cancelled.*
Quickly use the information you need, without feeling overwhelmed by it.
REST EASY KNOWING THAT EVERYTHING IS TAKEN CARE OF FOR YOU.
Once you're signed up, using your premium content couldn't be easier – all thanks to my intuitive step-by-step onboarding process.
Luxuriate yourself on all the details of your premium content without feeling overwhelmed by it.
Need extra guidance? No problem – my email onboarding helps point you in the right direction so that nothing slips through the cracks again.
Hello, I'm Aliza Rose.
I help women understand how their perfectionist and people-pleasing tendencies gives them an advantage in creating a profitable business, but without sacrificing their individuality, spirituality, or boundaries.  
I use astrology, tarot, and current business strategies to support them in reaching their goals. 
I'm passionate about what I do, and I'm damn good at it. 
Hundreds of successful women have trusted me with their businesses and their dreams.
I've worked with:
A best-selling author &  Emmy® Honored entrepreneur
An investor and producer who is a member of Oprah Winfrey's Super Soul 100 List
A product creator whose product sells out every year and brings in $250K per launch
A serial entrepreneur whose multiple businesses brings in over 7-figures in revenue each year
Hundreds of authors, coaches, educators, service providers, professional creatives, and more!
My goal is to change the world by helping women change how they view their ambitions and their personalities. 
YOU MAY BE WONDERING ABOUT SOME THINGS
Frequently Asked Questions
Your Time Is Money
SAVE HUNDREDS OF HOURS & THOUSANDS OF DOLLARS BY LETTING ME DO ALL THE WORK FOR YOU
 My premium astrology content membership offers horoscopes and dates to remember, so you can make the most of the stars' alignment. Every new moon and full moon comes with its own special reading-and-to-dos list, so you know exactly what to do to manifest success in your business. Save yourself invaluable time (not to mention money) by letting me do all the hard work for you!
Join Stars & Strategies today - and make astrology work for your business!
*All plans automatically renew unless cancelled.*